Our purchase of this victorian house was definitely an accident, and not a thought out planned decision. I think the house found us. Here is a quick recap of how we became the current owners.

We had just finished remodeling our first home which was a very simple 1,400 Square foot 10-year old ranch home. We were tired, but happy to finally get the drywall dust out of our hair.
One day on his way to work, my husband called to let me know there is a very nice victorian home in Portage for sale by owner. Well, we were not planning to move, but we talked about owning an old victorian. We were curious how much that house might be going for.

I called and scheduled a showing without my husband (he was really not serious about buying a house at that point)

The next day Burt and I looked at the house together. I could not wipe the huge smile off my face, which made the price negotiating hard. We had to have it and we put money down that same day, not even worried about selling our other home.

We joke about it every time we start a new project. It is a "money pit", but we love it.

The story of our renovation is not one of making money, investment, or a great "flip".

In order to do the projects in the style we wanted, we knew that almost all the work would have to be done by ourselves.

Making a lot of the tools and materials by hand added to the old world charm and the appreciation of some of the old and forgotten trades.

The list is long and it has been a wild ride. We are always up for a new challenge to learn how to repair or replace something. In-fact we have taken some breaks and have found ourselves out of place and bored.

EXTERIOR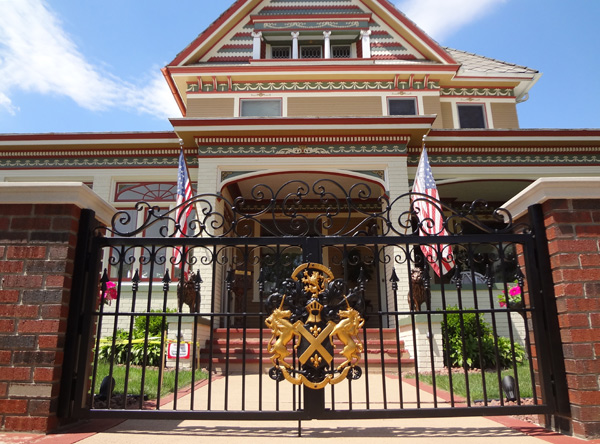 Replaced garage overhead doors, replaced garage roof and rear balcony roof. New wood/composite siding, blown in insulation, new soffit panel, gable half cove shakes, new column capitals, new "gingerbread" onlays and spire. A "Painted Lady" color scheme. Yard work including tree removal, new grass, flowers and landscaping. New treated decking with new railing and columns. New exterior metal decorative fencing. We have replaced two exterior wood doors and 33 windows. Repaired and re-glazed sunroom windows and doors.

INTERIOR
Crown moulding in many rooms. New lighting fixtures. Wood floor resurfacing. Wood trim, wainscoting, pocket door cleaning and refinishing. New wallpaper and/or paint treatments. New ceiling medallions. Picture mouldings restored to original locations. A full kitchen replacement. One powder room gut and replacement. Second floor bathroom gut and replacement. Dining room refinish with trayed ceiling. One bedroom converted to kitchenette and laundry/utility room. One bedroom converted to man cave/ trophy room. In the basement miscellaneous air sealing and insulation, concrete foundation sealer and concrete floor sealer, new boiler, removal of a 3000 gallon steel oil tank, replacement of plumbing lines and pipes, replaced knob and tube electrical wiring and a service upgrade. CCTV system, Cat5 wiring and Home automation lighting.